Art Gallery Tour
The Arts
— By
nmilner
on October 31, 2006 at 11:07 am
Continuing the First Friday tradition in downtown Scranton, this Friday, Nov. 3, an Art Gallery Tour will showcase the works of our talented local artists and the downtown businesses and galleries that support Scranton's art scene.
Between 6-8 p.m., a free trolley ride will shuttle participants around the tour stops. The trolley is sponsored by WVIA.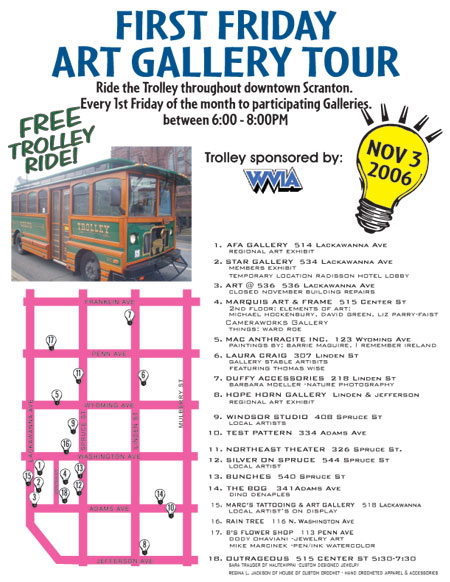 Featured exhibits include:
Regional art exhibit at AFA Gallery, 514 Lackawanna Ave.;
Members' exhibit at STAR Gallery, 534 Lackawanna Ave., temporary location Radisson Hotel lobby;
"Elements of Art" with works by Michael Hockenbury, David Green and Liz Parry-Faist at Marquis Art & Frame, 515 Center St., second floor;
"Things" by Ward Roe at Cameraworks Gallery;
Paintings by Barrie Maguire entitled "I Remember Ireland" at MAC Anthracite Inc., 123 Wyoming Ave.;
Dino Denaples at The Bog, 341 Adams Ave.;
Dody Ohaviani's jewelry art and Mike Marcinek's pen/ink watercolor at B's Flower Shop, 113 Penn Ave.;
Sara Trauger of Hautehippai with custom designed jewelry and Regina L. Jackson of House of Custom Crochet with hand-crocheted apparel and accessories at Outrageous, 515 Center St., from 5:30-7:30 p.m.;
Local artists at Marc's Tattooing & Art Gallery, 518 Lackawanna Ave.;
Gallery stable artists, featuring Thomas Wise, at Laura Craig, Linden St.;
Nature photography by Barbara Moeller at Duffy Accessories, 218 Linden St.;
Regional art exhibit at Hope Horn Gallery, Linden and Jefferson streets;
Local artists at Windsor Studio, 408 Spruce St.
Other participating galleries include:
Test Pattern, 334 Adams Ave.; Northeast Theater, 326 Spruce St.; Bunches, 540 Spruce St.; Rain Tree, 116 N. Washington Ave.; and Silver On Spruce, 544 Spruce St.
Trackbacks
Leave a Trackback