My Mother's Delicacies
Dining & Entertainment
— By
nmilner
on December 12, 2006 at 10:27 am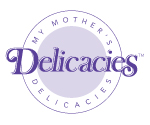 If you're entertaining this holiday season or just searching for the perfect gift for someone with a serious sweet tooth, check out the My Mother's Delicacies website (www.mymothersdelicacies.com).
Shop through My Mother's Delicacies' wide selection of delicious homemade baked goods including mini-sticky buns, Italian cookies, French cream triangles, butter cookies, Kolachie or Hamentashen. My Mother's Delicacies also offers four different flavors of gourmet rugala and all of their pastries are manufactured under the strictest kosher certification in the marketplace.
My Mother's Delicacies products are available in party platters for holiday entertaining and in gift baskets that can be personalized to your gift-giving needs.
Visit www.mymothersdelicacies.com and order some today.
Trackbacks
Leave a Trackback