Rediscover Scranton campaign kick-off
Events
— By
nmilner
on December 8, 2006 at 1:46 pm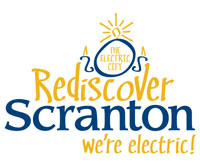 Rediscover Scranton, a new initiative to market the economic, cultural and scholastic assets of the area to former and current residents, will kick off its marketing campaign with a gathering of business and community leaders on Wednesday, Dec. 27, from 5-7 p.m. at the Electric City Trolley Museum, Lackawanna Avenue, downtown Scranton.
Join Robert Cordaro, Peter Danchack, George Lynett, Senator Bob Mellow, George Semian, Austin Burke and a host of other community leaders as Rediscover Scranton kicks off its campaign to reach out to people with connections to Scranton who are looking for the opportunity to enhance their financial status, quality of life and growth potential.
RSVP by Dec. 20 with Krissy Maher at 570-342-7711 or kmaher@scrantonchamber.com. Learn more about the Rediscover Scranton project at www.rediscoverscranton.com.
Trackbacks
Leave a Trackback