Rediscover the Electric City Trolley Museum
Downtown
— By
Administrator
on December 21, 2006 at 12:22 pm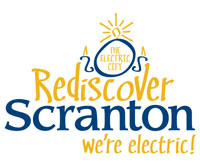 The holidays are approaching, and visitors will be coming to town to see family and friends. Be sure to tell your guests about Rediscover Scranton and invite them to attend the kickoff event on December 27! Encourage them to register their e-mail address at www.rediscoverscranton.com. They will be entered for a chance to win a VIP weekend in Scranton.
As your holiday guests are "Rediscovering Scranton," be sure to tell them about the Electric City Trolley Museum. This organization will be hosting large-scale train displays Presidents' Day weekend, February 17-19, 2007 from 10:00 AM to 4:00 PM. During this weekend, the Pennsylvania Garden Railway Society and Warrior Run Loco Works will be on hand with feature exhibitors. Visitors from all over the country will visit the Electric City Trolley Museum Presidents' Day Weekend. For more information regarding the Electric City Trolley Museum visit www.ectma.org.
Mark your calendars!
Scott J. Weiland
Trackbacks
Leave a Trackback