Graham set to release 'Sea Legs'
The Arts
— By
nmilner
on June 13, 2007 at 12:32 pm
One of the most popular singer-songwriters in Northeastern Pennsylvania's music scene, Tom Graham will release his fourth album of original songs, "Sea Legs," on June 19 and Graham feels confident it represents his most complete vision to date.
"It is a complete album, through and through," he said. "There isn't any filler. Everything is there for a reason."
Though "Sea Legs" reveals Graham to be an accomplished guitarist, it wasn't the instrument that first drew him to music. The Moscow native took up the drums in fifth grade and didn't discover the guitar until early in his college years.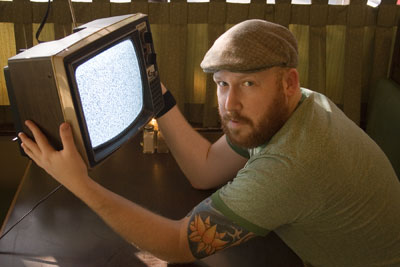 "Being an English major at the time," Graham said, "the songwriting aspect really called me out and I was hooked on creating music and songs." But, at times, Graham's earlier musical inclinations still show through. "I really play the guitar like a drumset sometimes, hence often broken strings."
After college Graham relocated to California to work as an editor of an entertainment magazine. During that time he began performing live. Graham moved back to Pennsylvania in 2002 and has been a staple of the local music scene ever since.
"Sea Legs" was recorded in six months at Utopia Studios near Lords Valley. "There are tracks that zip by, that are painful, that are humorous and hopefully all are thought provoking," Graham said of the album.
Graham will be performing at clubs around the area following the release of the album and he said fans of "Sea Legs" will be surprised to hear the songs in a live setting. "The songs captured where they were a few months ago. After that, they take on a life of their own in the live setting.
"The evolution gets really interesting."
And part of that evolution stems from Graham's involvement with his audience. "I have an incredible audience," he said. "They listen, laugh and inspire me."
He also draws inspiration from the many talented musicians living and working in Northeastern Pennsylvania. "The local music scene is here," Graham said. "It has been here and if you say there is no local music scene, my friend, your head is buried."
For more information and upcoming shows, visit www.tomgrahammusic.com or Tom's MySpace page. On June 20, The Bog in Scranton will host a CD release party for "Sea Legs."
Trackbacks
Leave a Trackback