Save the Date: Mini-Thon dance-a-thon
Events
— By
nmilner
on May 9, 2008 at 8:23 am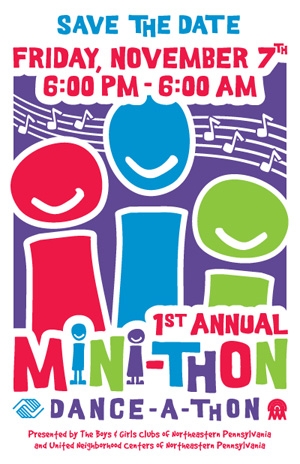 Save the date for the first annual Mini-Thon dance-a-thon sponsored by the Boys & Girls Club of NEPA and the United Neighborhood Centers of NEPA on Friday, Nov. 7, from 6 p.m. to 6 a.m. at Lackawanna College Student Union (The Former CYC).
The event, featuring twelve hours of fun movement and music, will benefit kids in the Greater Scranton area. There will be teams and individual entrant categories. More information and registration details will come in the months ahead but, for now, save the date to "Dance Your Feet Off for Kids!"
For more information, call 570-342-8709 or 570-346-0759.
Tags: Boys and Girls Club, Electric City, Mini-Thon, Scranton, UNC, united neighborhood centers
Trackbacks
Leave a Trackback