Scranton Jazz Festival showcases area's best
Events
— By
nmilner
on June 12, 2008 at 1:27 pm
The annual Scranton Jazz Festival will return to downtown Scranton on August 1-3, 2008, with three days full of live
entertainment by some of the area's most talented musicians.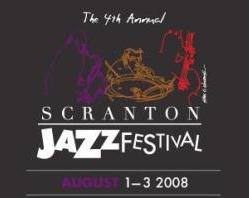 Headlining the fourth annual Scranton Jazz Festival will be Spyro Gyra, The New York Voices, jazz legend Phil Woods,
The Marko Marcinko Latin Jazz Quintet, J.D. Water, bluesman Clarence Spady, The Scranton Jazz Festival Big Band
and more.
The main stage will host 13 international, national and regional groups and musicians.
The event, sponsored in part by Rediscover Scranton, will be held at the Historic Radisson Lackawanna Station Hotel,
700 Lackawanna Avenue, Scranton. Visit the Pennsylvania Jazz Alliance site for more information on the festival.
Sign up at Rediscover Scranton for a chance to win a pair of free tickets to the region's fastest growing event.
Tags: Electric City, Pennsylvania, Scranton, jazz, pa, pa jazz alliance
Trackbacks
Leave a Trackback