Scranton's Lackawanna Station marks 100 years
Featured
— By
nmilner
on June 27, 2008 at 11:39 am
A local Scranton landmark is celebrating a historic birthday this year – the former Lackawanna Station (now the Radisson at Lackawanna Station Hotel) will mark its 100th anniversary this year.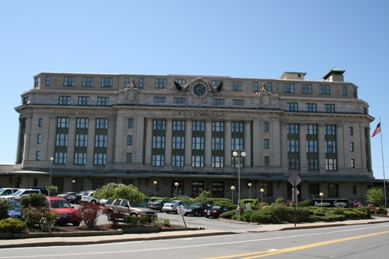 Delaware, Lackawanna & Western Railroad built a new passenger depot in Scranton in 1908 to replace a smaller station located along Lackawanna Avenue near Franklin Avenue. New York architect Kenneth Murchison provided the Beaux Arts design for the depot in 1906. After 14 months construction, the five-story, $600,000 structure was completed.
The structure was constructed of brick and steel, with concrete floors and partitions; an exterior faced with Indiana limestone and an eight-foot bronze clock on the façade. In the main entrance, visitors encounter Formosa, an Italian marble, the former waiting area and halls decorated in imported marble, and the barrel-vaulted ceiling made of Tiffany glass.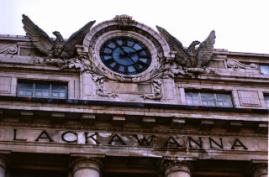 Among the renovations to the station over the years was the addition of a sixth floor in the 1920s to create more office space. But the building fell into disrepair after Consolidated Rail Corporation merged its Scranton offices with its Philadelphia headquarters and closed the building in 1977.
That same year, the station was added to the National Register of Historic Places; and in 1983, the facility underwent a $13 million restoration turning it into a luxury hotel.
In recent years, the Scranton landmark has seen millions of dollars in renovations making it one of the top travel destinations in Northeast Pennsylvania while retaining its historic character. The Radisson at Lackawanna Station Hotel now features numerous luxury amenities and offers great downtown dining at Carmen's Ristorante & Wine Bar or Trax Bar & Grille.
To celebrate the Lackawanna Station's 100th anniversary, Steamtown National Historic Site is offering tours of the former railroad station on selected Saturdays and Sundays in October at 10:30 a.m. and is hosting a photo exhibit in the park's Changing Exhibit Gallery in the Visitor Center through December. A selection of historic photographs and reproductions of newspaper ads and press releases will also be on display at the station.
Tags: Electric City, Pennsylvania, Radisson, Scranton, lackawanna station, pa
Trackbacks
Leave a Trackback