NASCAR Fanfest in Scranton
Featured
— By
nmilner
on June 2, 2008 at 9:42 am
NASCAR fans are revving their engines for the Pocono 500 race at Pocono Raceway on Sunday, June 8. Now thanks to the Fanfest on Saturday, June 7, in Downtown Scranton, racing fans can look forward to a full weekend of NASCAR events and fun.
Fanfest will be set up along Lackawanna, Penn and Wyoming avenues in Scranton on Saturday with authentic race cars on display, a street carnival, driving simulators, quiz shows and live entertainment on two stages throughout the day.
Racing legend and Berwick native Jimmy Spencer will be at Fanfest to receive the key to the city and the Speed Channel will be broadcasting from the event live across the nation.
The main stage will be set up at the corner of Lackawanna and Wyoming avenues; the second stage will be set up at the corner of Spruce Street and Penn Avenue. Live entertainment will include Funk n' Gumbo, Music for Models, Farmer's Daughter, Karissa, Robert Hazzard and Thompson Ward. Capping off the day will be a performance by a concert by ASIA, the band that brought you "Heat of the Moment" and other great hits, on the main stage at 8 p.m.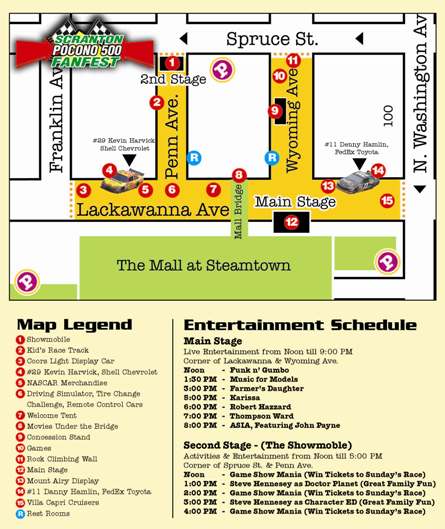 Proceeds from the event will benefit The Children's Advocacy Center of Northeast Pennsylvania and The NASCAR Foundation. The event is sponsored by the City of Scranton, Pocono Speedway, Times-Shamrock Communications, Mount Airy Casino and Resort and WNEP-16.
Tags: Downtown, Fanfest, Jimmy Spencer, NASCAR, Pennsylvania, Pocono 500, Pocono Raceway, Scranton, pa
Trackbacks
Leave a Trackback