Progress continues on Scranton Riverwalk
Downtown
— By
nmilner
on June 19, 2008 at 12:08 pm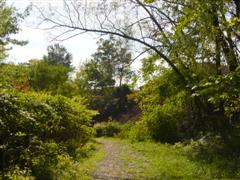 Progress continues on the Downtown Scranton Riverfront Project and the Lackawanna Heritage Valley Authority (LHVA) estimates groundbreaking on the Riverwalk will take place before the end of the year.
The Downtown Scranton Riverfront Project is a collaboration between LHVA, Lackawanna River Corridor Association, and Scranton Tomorrow and aims to make the Lackawanna River a destination for recreation and cultural events.
The Riverfront project, a phase of LHVA's Lackawanna River Heritage Trail project, will lead to the development of a multi-purpose Riverwalk along the river adjacent to Scranton's downtown business district. The scope of the project includes outdoor gathering spaces; ramps with direct access to the water for fishing, canoeing, and kayaking; and recreational facilities.
As part of the wider Lackawanna River Heritage Trail, LHVA recently a grant application to the state Department of Conservation and Natural Resources for funding on the Scranton CNJ Trail Extension. The CNJ Trail begins off of 7th Street, runs through Schmidt Memorial Park to Elm Street, then to the Scranton/Taylor line.
Image courtesy of www.lhva.org.
Tags: Lackawanna Heritage Valley Authority, Lackawanna River, Pennsylvania, Riverwalk, Scranton, pa
Trackbacks
Leave a Trackback