Tuesdays on Center Street, Scranton
Events
— By
nmilner
on June 24, 2008 at 11:12 am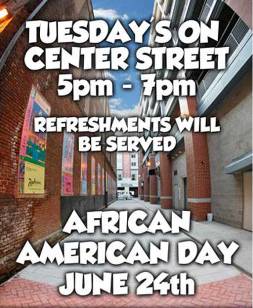 The great Tuesdays on Center Street series held on the 500 Block of Center Street, Scranton, will continue tonight with an African-American Appreciation Day celebration from 5-7 p.m.
Entertainment will be provided by Shenay Brown and The Minor White, as well as dancers from the Latin Cultural Diversity Center.
Sponsors for the event are The Hilton Scranton and Conference Center, 130 Brixx Grille & Tavern, Coney Island Lunch, Cooper's Seafood House, Brewer's Outlet, Main Street Tent Rental, Outrageous, Vida Tapas Bar, Stirna's Restaurant and the City of Scranton.
Upcoming Tuesdays on Center Street events include: Latino Appreciation Day, July 29; Eastern European Appreciation Day, Aug. 26; Italian Day, Sept. 30; and Western European Day, Oct. 28. All events are 5-7 p.m., 500 block of Center Street, Scranton.
Tags: Brixx, Coney Island, Coopers, Electric City, Pennsylvania, Scranton, Tuesdays on Center Street, Vida, pa
Trackbacks
Leave a Trackback