Review: Yanni's Greek Bistro
Dining & Entertainment
— By
nmilner
on June 13, 2008 at 2:21 pm
For anyone who didn't get their fill during the Greek Festival recently in Scranton, Yanni's Greek Bistro recently opened on Wyoming Avenue with wide variety of Mediterranean delights.
You can start your meal with a selection from Yanni's "starter snacks" that include traditional favorites like spanakopita and dolmades, as well as a Greek Pizza made of soft pita bread topped with feta and blended cheeses, black olives and red peppers. Or take your pick from five varieties of dips and spreads served with pita bread.
For a quick healthy lunch, try a Panini served on Ciabatta bread. Yanni's offers everything from a veggie Panini with grilled vegetables, fresh mozzarella and homemade Greek dressing to a buffalo chicken Panini covered in buffalo sauce and bleu cheese.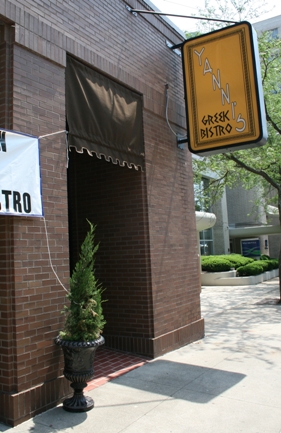 There are six fresh salads to choose from along with Pita Delights that can be stuffed with marinated pork, ground beef, chicken breast, tuna salad or sliced gyro meat. Vegetarians will find plenty to enjoy on the Veggie Delights menu.
Yanni's has traditional burger selections as well as a feta burger topped with the classic Greek cheese.
For a classic Greek dining experience, you can't beat Yanni's signature dishes which include pastitsio, mousaka, yuvetsi, a souvlaki plate and a gyro plate.
Yanni's Greek Bistro
136 Wyoming Ave.
Scranton, Pa 18505
Phone: 570-341-7888
Fax: 570-341-0366
Hours: Monday through Saturday, 10 a.m. to 7 p.m.
Tags: Electric City, Greek, Pennsylvania, Scranton, Yannis, pa
Trackbacks
Leave a Trackback