August First Friday set to be big
The Arts
— By
nmilner
on July 29, 2008 at 11:13 am
The August First Friday art walk is coming up this Friday and it's shaping up to be the biggest First Friday of the year.
The event will coincide with the first night of the Scranton Jazz Festival and several venues will feature live jazz music or pieces that tie in to the jazz theme.
Twenty-five venues are participating in the August First Friday; special activities include a collaborative mural at the Radisson Hotel that anyone can contribute to, a "History of the Scranton Cultural Center" exhibit at the SCC and Antioch playing at Courthouse Square.
Be sure to be downtown this Friday to enjoy some of the best art and music Scranton has to offer.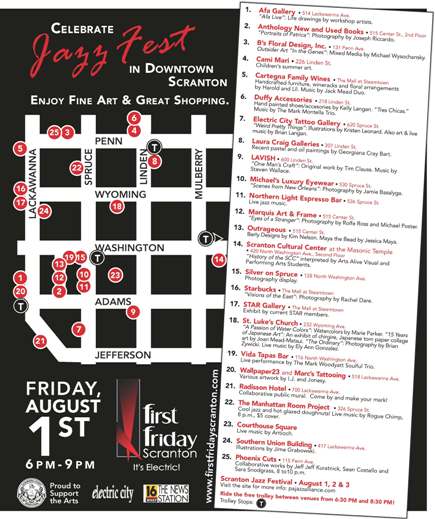 Tags: Electric City, First Friday, Pennsylvania, Scranton, jazz festival, pa
Trackbacks
Leave a Trackback