Scranton turns out for Sparks & Feathers
Featured
— By
nmilner
on July 22, 2008 at 10:35 am
Scranton art and theatre lovers turned out Saturday night to celebrate the launch of the new Electric Theatre with a Sparks and Feathers masquerade party. David Zarko, artistic director for the theatre, sent us a full wrap up and it sounds like it was quite an event.
"People began arriving just before six while Giovanni's was still bringing the food in and getting the bars set up. But the main theatre was ready to go, and there were masks to be claimed, and gift baskets to buy chances on, so the first few brave hearts found plenty to keep them entertained. The main theatre was populated by a (rather quiet, but interracial) audience of black and white balloons, bobbing around in the currents of air set up the by the cooling system. On the screen the City donated to us a couple of weeks ago, were black and white movies from the silent era, just as ambiance, really. Scattered around the edges of the stage, some of the more comfortable first row chairs, red and black, around small white tobacco cloth covered tables with little candles in glass. Jim Langan lit the room with interesting shadows and colors, and the whole effect was really stunning. The early arrivals, appropriately stunned, filled that room first, drinks in hand, looking very much at home.
Of course when the food arrived, the ballroom filled up soon enough. The way that room looked surprised everyone, members of the company included. We'd gotten so used to it as a messy catch all of a room, that to see it cleared out, decorated with Ted Michalowski's posters from the past three seasons, with big round tables surrounded by red chairs, those black and white balloons, and strings of white carnival lights crisscrossing the stage, it really amazed us all. For those who had never seen the room, I think the effect was even stronger. If this is not an oxymoron, it somehow achieved a funky elegance; torn wallpaper, holes in the walls and ceiling, dilapidated chandeliers, and carpet vintage 1968 at the lowest point in recorded human tastes, and still the way Liz Feller and Lynnie Siegel put together felt… special. Something grabbed you, made you feel, well, at home and in a very special place, both at the same time.
The other lobbies were each decked out in some unique way, all varying, all taking advantage of the building's sense of faded and crumbling glory, and all bringing the glory to life again in unexpected ways.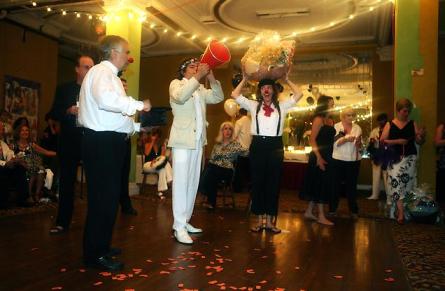 But it wasn't all decor, either. Everyone who represented the Theatre wore red clown noses and black and white 'formal' attire… formal in a clown sort of way. The Marx Brothers (lead by Richard Grunn as Groucho, and assisted by Jeff Wills and Liz Feller) harassed and teased the guests. The Maestro (actually Dave Berent, an associate from New York) worked the crowd in his charming French manner. Miss Dimple (aka Heather Stuart) gave advice worth much more than the nickel she charged for it. And Will Chamberlin, vice-president of the board and a member of the house of Scranton, greeted arrivals in prison stripes and, of course, a red nose.
Trio Barocco, an ensemble of violin, cello and flute from Tunkhannock, played Strauss Waltzes for the first hour or so. They were followed by Cuban Tres who spiced the air with their tropical rhythms, while Jeff and Heather performed 20 minutes of acrobalance. (And for acro, that is a long time!) Then Mayor Chris and Donna Doherty got thanked by a fellow wearing a red nose and speaking through an old time megaphone, and tickets were drawn for the gift baskets, out of an old collapsible top hat (the losing tickets thrown onto the crowd like paper water in a circus). After a brief lull while everyone caught their breath, Conor McGuigan started spinning his LP vinyls and got the crowd moving in the main theatre. They moved until about 10:30, and some of the first to come were among the last to leave.
I really can't tell you what a great time it was. I'm not much of a party man, myself, but I enjoyed every minute of this one, from the moment the first guest arrived, to the moment I hurt my knee dancing with Maura Malloy. What perfect symmetry!
We're thinking about Sparks and Feathers! as an annual event. The 120 or so who attended this year's edition are going to make everyone else feel like they missed something… because they did! In the meantime, we're also talking about using the ballroom for opening night post show parities, where the actors and audience get to mingle and create magic after the lights fade, and all for a paltry sum just to cover expenses.
We had billed this as the party of the year, then began to blush when it was only a week out and we had only 14 people say they were coming. But you know something? It was the party of the year, after all. And thank you to all of those who created it in preparation, and who created it by being there. Here's to next time!"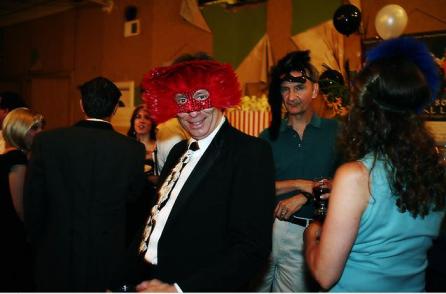 Photos courtesy of Kathryn LeSoine and Stone Road Studio.
Tags: Chris Doherty, Electric City, Pennsylvania, Scranton, david zarko, electric theatre, pa, sparks feathers
Trackbacks
Leave a Trackback