Beatles Festival coming to the Woodlands
Events
— By
nmilner
on August 7, 2008 at 11:50 am
Fans of the Fab Four take note: Pennsylvania's International Beatles Festival, Abbey Road on the River will be held on Labor Day, Sunday, August 31, 2008, from noon to 11 p.m. at the Woodlands Inn and Resort, Route 315, Plains.
Performers will include Beatlemania Now, Abbey Road Live, Hal Bruce, All You Need Is Love, former member of the Hollies Terry Sylvester with The Cryers, Elliots, Drew Harrison, Mario DaSilva, The Blue Meanies, Charlie Guitar, The Fab Five, Bootlegs, Yesterday and Today, Steve Sizemore Group, and Fat Angel. The grand finale will be an exact recreation of The White Album live.
Net proceeds from the event will benefit St. Joseph's Center. Order tickets online, by phone at (570) 343-8493 or at the Woodlands front desk.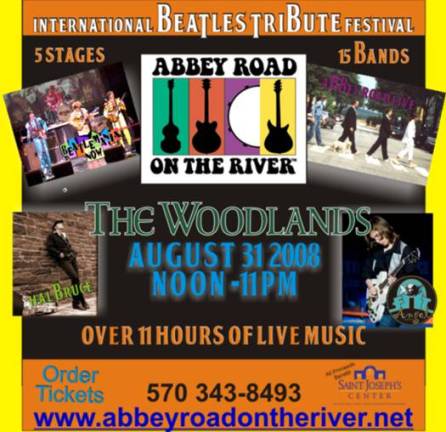 Tags: Electric City, Pennsylvania, Scranton, abbey road on the river, beatles, pa, st. joseph's
Trackbacks
Leave a Trackback