Bracken Theatre presents 'Closer'
The Arts
— By
nmilner
on August 6, 2008 at 10:42 am
Check out great local theater this weekend when The Bracken Theatre Company presents "Closer" directed by Alicia Nordstrom and starring Will Moore, Kerry Kane, Eleanor Gwyn-Jones and John Morris.
The play upon which the Julia Roberts, Clive Owen film was based, "Closer" tells the story of four people whose lives and relationships intertwine as they pursue each other in a struggle to find intimacy.
The play includes adult language and romantic situations. It was the winner of the 1998 Olivier Award for Best Play and the 1999 New York Drama Critics Award for Best Foreign Play.
Bracken Theatre's production is scheduled for August 9, 10, 15, 16 and 17 at 411 Studio, 411 Lackawanna Ave., Olyphant. Tickets are $12; you can get yours at the door or by calling (570) 822-7106.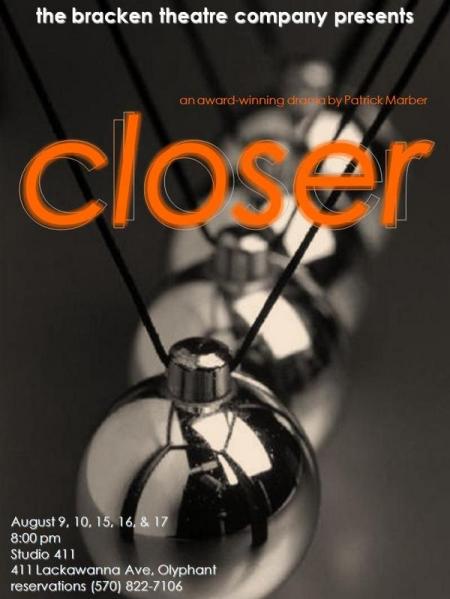 Tags: Electric City, Pennsylvania, Scranton, bracken theatre, closer, pa
Trackbacks
Leave a Trackback