Big names coming to Scranton Comic Con
Featured
— By
nmilner
on August 26, 2008 at 11:12 am
Some big names are scheduled to take part in the Scranton Comic Book Convention on Sunday, August 31, at the Clarion Hotel, 300 Meadow Avenue, from 10 a.m. to 5 p.m.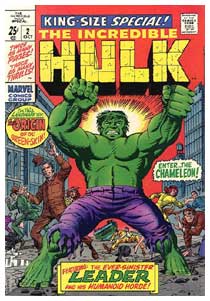 Comic book writers and artists Herb Trimpe, Chris Ring and Scott Beatty will be in attendance at the Scranton Comic Con. Trimpe worked as an artist at Marvel for 29 years including successful runs with the Incredible Hulk and Fantastic Four. He was hired by Stan Lee as a production assistant and is credited with bringing cinematic techniques to comic book art. His work at Marvel ended in 1996. He recently worked on a project for Dark Horse Comics. Browse a gallery of Trimpe's covers.
Self taught artist Chris Ring gained attention with his CarbonKnight mini series. Since that time he has worked on a variety of projects and is currently working for PMK's Imagination. With PMK, he has been the artist on The Perfect Victim and contributing artist on Nevermore.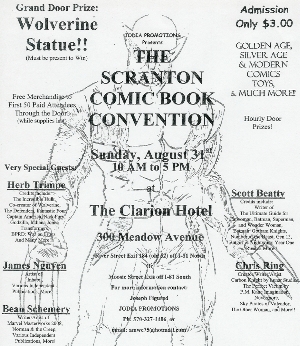 Scott Beatty has worked as a comic book author largely for DC Comics since the 1990s. He has written several guides including Batman, Superman and Wonder Woman. He has also written traditional comic issues including a well received JSA Classified arc. Keep up with Beatty on his blog.
Admission to the Scranton Comic Con is $3; free for children under six.
Tags: Electric City, Pennsylvania, Scranton, comic book, comic convention, pa
Trackbacks
Leave a Trackback