Scranton Cultural Center announces fall season
Downtown
— By
nmilner
on August 27, 2008 at 11:33 am
The Scranton Cultural Center, 420 North Washington Ave., just announced the line-up for its fall/winter season.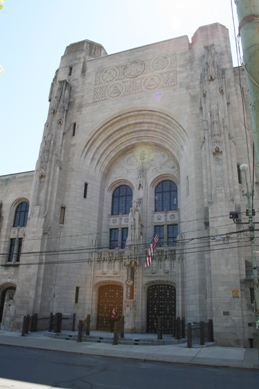 The Cultural Center will host Jason Mraz, kicking off his North American tour, on October 8. And the multi-talented Terry Fator – singer, impersonator, comedian, ventriloquist and winner of America's Got Talent – will come to the Cultural Center on September 27.
The '08-09 season features great music like "An Evening of Jazz" with the Marko Marcinko Jazz Quintet on October 1 and the NEPA Philharmonic on October 10, December 5, February 6, April 4 and May 2. There will also be excellent theatrical shows for kids and adults like the Children's Series that starts with "Charlotte's Web" on October 4 or "Altar Boyz" on October 3 and "Mama's Night Out" on October 10.
The Cultural Center always throws a great Halloween party. This year's Eerie Eve of Masonic Mysteries will include food, music, costume contests and giveaways on October 30, 6-10 p.m. in Shopland Hall. Must be 21 to enter.
The holiday season will bring Irish tenor Ronan Tynan in "My Gift of Christmas Song" on December 6 and "A Christmas Carol: A Musical" on December 7.
For tickets and information call the box office at 570-344-1111 and visit their site. us on the web at www.scrantonculturalcenter.org
Tags: Electric City, Pennsylvania, Scranton, Scranton Cultural Center, jason mraz, nepa philharmonic, pa
Trackbacks
Leave a Trackback