Site takes aim at Lackawanna County graffiti
Downtown
— By
nmilner
on August 20, 2008 at 11:24 am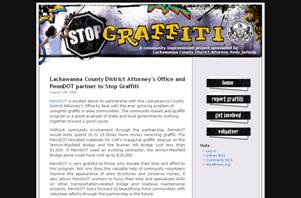 An interesting local initiative launched recently; Lackawanna County District Attorney Andy Jarbola together with PennDOT helped create a Stop-Graffiti site to combat graffiti around the Scranton area.
You can report graffiti on the site and volunteers will remove it as quickly as possible. And if you'd like to volunteer your efforts to paint over and clean up graffiti around Lackawanna County, you can sign up through the site.
It's these kind of efforts that make Scranton a great place to live and keep the Renaissance going strong.
Tags: Electric City, Lackawanna County, Pennsylvania, Scranton, andy jarbola, pa, penndot, stop graffiti
Trackbacks
Leave a Trackback