Lackawanna Station exhibit on display at Steamtown
Downtown
— By
nmilner
on September 15, 2008 at 11:16 am
This year marks the 100th anniversary of the former Lackawanna Station (now the Radisson at Lackawanna Station Hotel) and Steamtown National Historic Site is currently hosting an exhibit called "100 Years: The Delaware, Lackawanna & Western Railroad's Scranton Passenger Station."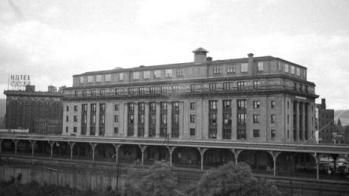 The exhibit illustrates how this prominent Scranton landmark played a key role in the lives of everyday citizens. The centennial exhibit will be on display at Steamtown NHS through December. An abridged exhibit is on display on the first floor halls of the hotel.
For more information, call (570) 340-5200.
Photo courtesy of Lackawanna Heritage Valley Authority.
Tags: Electric City, Pennsylvania, Scranton, hotel, lackawanna station, pa, steamtown
Trackbacks
Leave a Trackback