Mondo Movie Night returns in time for Halloween
Events
— By
nmilner
on September 22, 2008 at 10:42 am
Mondo Movie Night, screenings of classic horror movies organized by local filmmmaker Blake Monahan, returns to the Endless Mountains Theatre just in time for Halloween.
The next Mondo Movie Night is scheduled for Saturday, October 25, at 10 p.m. at Endless Mountains Theatre. Tickets are $6.
The featured movie will be Italian horror legend Dario Argento's "Deep Red" – a musician witnesses the murder of a famous psychic, then teams up with a reporter to find the killer while evading attempts on their lives.
It's considered on par with Argento's masterpiece "Suspiria;" and if you're not sure if this movie is for you, just read the tagline: "When the Screaming starts and the Blood begins to flow… Pinch yourself and keep repeating I'M AT THE MOVIES! I'M AT THE MOVIES! I'M AT THE MOVIES! I'M AT THE MOVIES!"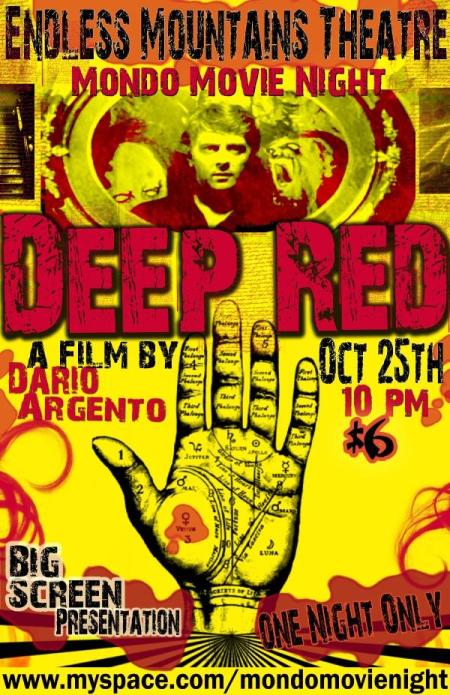 Tags: Blake Monahan, Electric City, Pennsylvania, Scranton, mondo movie night, pa
Trackbacks
Leave a Trackback