New venues for Sept. First Friday
The Arts
— By
nmilner
on September 4, 2008 at 7:59 am
The new First Friday map is here and this Friday's event brings several new gallery spaces displaying the work of local artists.
With school back in session, Lackawanna College's gallery and the Hope Horn Gallery at the University of Scranton joined in First Friday this month. The Times-Tribune building on 149 Penn Ave. will display historic photos and pages from the Times' archives and the recently opened Dionysus Downtown will host an exhibit.
There will also be plenty of music this month with DJ Blake Monahan at Anthology New and Used Books, Antioch playing at Courthouse Square, accordionist Tony Angeli at B's Floral Design, the Moths of Instruction at Electric City Tattoo Gallery, the Jolly Joe Duo at Silver on Spruce and pianist Donald Davis at St. Luke's Episcopal Church.
In all, there will be 22 stops along this month's First Friday art walk with art, music, food and more.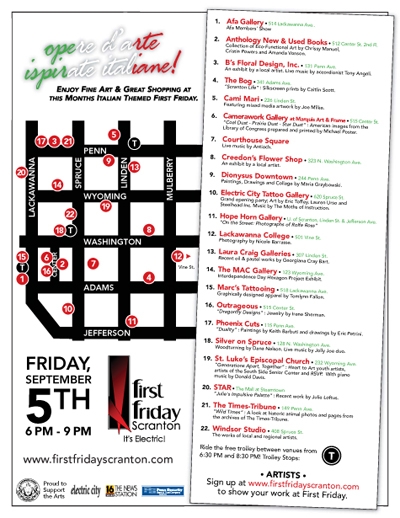 Tags: Electric City, First Friday, Pennsylvania, Scranton, University of Scranton, anthology, hope horn gallery, lackawanna college, pa
Trackbacks
Leave a Trackback