POWER! Outage at Mohegan Sun
Events
— By
nmilner
on September 5, 2008 at 10:58 am
Try out the area's newest casino and network with Northeastern Pennsylvania professionals during the POWER! Outage at Breakers in Mohegan Sun at Pocono Downs on Thursday, Sept. 11, from 5:30-7:30 p.m.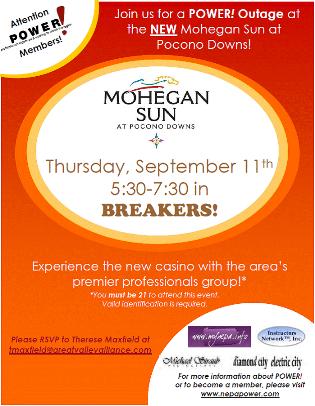 You must be 21 to attend this event. Breakers features great food and drinks and POWER! hosts some of NEPA's best get-togethers so be sure to check it out.
To RSVP, email Therese Maxfield at tmaxfield@greatvalleyalliance.com.
Tags: POWER!, Pennsylvania, Scranton, mohegan sun, pa, pocono downs
Trackbacks
Leave a Trackback