POWER! hosts downtown Poker Walk
Events
— By
nmilner
on September 19, 2008 at 11:51 am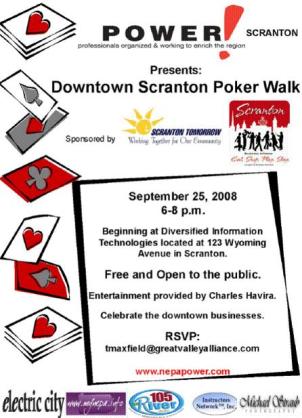 POWER! is constantly finding unique ways to get Northeastern Pennsylvania professionals together and networking; next Thursday, Sept. 25, POWER! will host a Poker Walk through Downtown Scranton from 6-8 p.m.
The Poker Walk begins at Diversified Information Technologies, 123 Wyoming Ave. Participants will collect cards at venues around the downtown area and try to assemble the best poker hand. Entertainment will be provided by Charles Havira.
To RSVP, email Therese Maxfield at tmaxfield@greatvalleyalliance.com.
Tags: Electric City, Pennsylvania, Scranton, pa, poker walk, power scranton
Trackbacks
Leave a Trackback