Psychotherapy Live for Scranton voters
Downtown
— By
nmilner
on September 17, 2008 at 9:00 am
Being a key political territory in an important swing state has brought national attention to Northeastern Pennsylvania and this weekend conceptual artist Lisa Levy will bring bi-partisan support to stressed Scranton voters with her "Psychotherapy Live" show.
Levy has performed "Psychotherapy Live" at venues around New York City and at the Edinburgh International Fringe Festival, Scotland. She will be in Scranton on Saturday, Sept. 20, tentatively at the corner of North Washington and Spruce streets at 1 p.m. Update: Levy will perform at the entrance to the Mall at Steamtown from 1-7 p.m. She thanks Paige Balitski, Director of the Scranton Film Office and the management of the mall for making this arrangement possible.
Audience members under emotional duress from the campaigns are invited to participate in psychotherapy sessions on Levy's couch. She says she "…doesn't want to influence voters;" she only "wants to aid in making the decision that's right for each American."
Stop by and check out Levy's unique performance art on Saturday in the downtown area. Just look for the couch.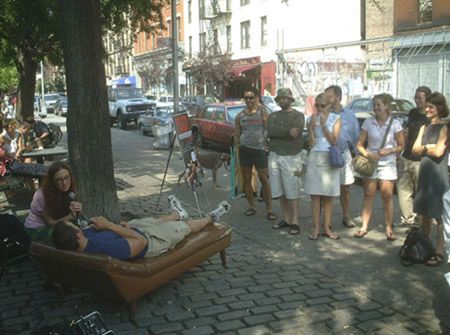 Tags: Electric City, Pennsylvania, Scranton, lisa levy, pa, psychotherapy live, scranton politics
Trackbacks
Leave a Trackback