A Night of Local Films
The Arts
— By
nmilner
on October 16, 2008 at 11:39 am
The Endless Mountains Theatre will host a night of short films produced by local filmmakers and shot entirely in Northeastern Pennsylvania on Saturday, November 1, at 7 p.m.
Four films created by Community Film Project members will be shown: "Get Pumped!" by Jeff Fowler; "First Semester" by Tony DelRegno; "A Night On The Moon" by Bob Sweeney; and "A Witness Carol" by Danielle Wells and Kevin Malone.
"Get Pumped!" – A documentary that details the operations of a consulting firm named Pumped Associates. The mission of Pumped Associates is to improve the well being of clients by utilizing energetic chants to get people fired up.
"First Semester" – During Beth's first semester of college she is living in a party house. Her very-religious mother and swinging grandmother surprise her for a visit. Beth must try to hide the truth about her roommates: a lesbian in love with her, and two perverted males who make dirty movies.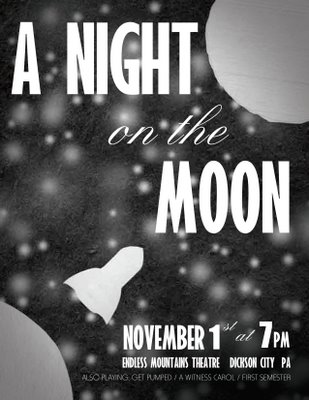 "A Night On The Moon" – Strange and Wonderful things can happen on the moon. Set in the early 20th century and filmed in the fashion of an old silent film, the story centers on Scott who tries to impress, Harriet, by taking her on a date to the moon.
"A Witness Carol" – Raymond Barber had everything; a best friend, a supportive mother and a religion to call upon when things got to be too much. But when he delves into the under belly of a specific Christian holiday, his whole world turns upside down. Stuck between an ultimatum and devotion, Raymond must decide what's most important. Should he follow his faith, or his heart?
Admission is just $5. And a dvd featuring films from local filmmaker Jeff Fowler will be on sale for $10 with over two hours of short films.
Tags: Electric City, Pennsylvania, Scranton, community film project, endless mountains theatre, jeff fowler, pa
Trackbacks
Leave a Trackback