First Friday October in downtown Scranton
The Arts
— By
nmilner
on October 1, 2008 at 10:17 am
The Scranton area's art community continues to support bigger and better First Friday events each month. This month's Oktoberfest-themed First Friday includes 26 venues across the downtown area.
And it's not just the number of venues – several venues this month are loaded with art and activities for visitors to enjoy. St. Luke's Episcopal Church, 232 Wyoming Ave., will offer trained dancing dogs, an animal CPR demonstration, dogs available for adoption from the Humane Society, art by Dianet Grant-Dzajkowski, Sandi Korshnak, Ed Davis and Keystone Community Resources artists and more. And the Electric Theatre Company, 326 Spruce St., 2nd Floor, will feature a silent art auction with a signed original illustration by iconic costume designer Edith Head and works by local artists.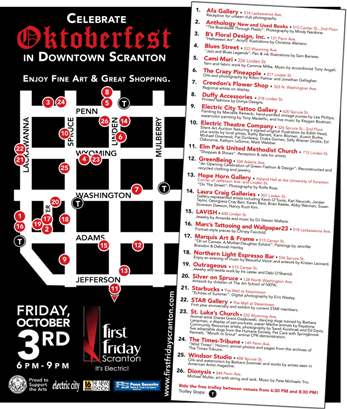 Music this month will include accordionist Tony Angeli at Cami Mari, 226 Linden St.; Pete Michaels Trio at Dionysus Downtown, 244 Penn Ave.; DJ Steven Wallace at LAVISH, 600 Linden St.; Beautiful Vision  at Northern Light Espresso Bar, 536 Spruce St.; and Keygan Bodman at Electric City Tattoo Gallery, 620 Spruce St. Fans of jazz and blues will also enjoy pen and ink illustrations of jazz and blues legends by Sam Barrese at Blues Street, 222 Wyoming Ave.
Be sure to check out the great local art on display at all of this month's venues this Friday, Oct. 3, from 6-9 p.m. in Downtown Scranton.
Tags: Electric City, First Friday, Pennsylvania, Scranton, pa
Trackbacks
Leave a Trackback