"Men of Mah Jongg" to Premiere in Scranton
The Arts
— By
nmilner
on October 20, 2008 at 11:05 am
Scranton's own Electric Theatre Company will host the world premiere of "The Men of Mah Jongg" written by Richard Atkins and directed by Tony Award winner Mark Medoff. See it in NEPA first. Following its Scranton premiere, the production moves directly into New York for a co-production with Queens Theatre in the Park.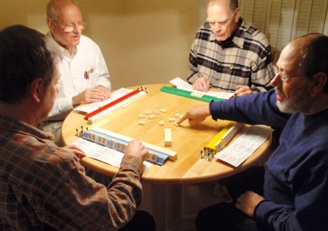 "The Men of Mah Jongg" is a charming tale of four elderly men who secretly take up the traditionally female game of mah jongg. The playwright, Richard Atkins, is also an accomplished pianist (formerly with Guy Lombardo), actor and composer; he is working on a screenplay based on the book Child of the Twentieth Convoy. Director Mark Medoff is a Tony award winning playwright and Oscar nominated screenwriter; this is his fourth project with Electric Theatre Company.
Pay-What-You-Can previews run Nov. 5 and 6 at 7 p.m. and Nov. 7 at 8 p.m. Opening night is Saturday, November 8, at 8 p.m. at the theatre, 326 Spruce St., 2nd Floor, Scranton; a party to celebrate the premiere will immediately follow the show. The play runs Nov. 9-23 on Wednesdays and Thursdays at 7 p.m.; Fridays and Saturdays at 8 p.m.; and Sundays at 3 p.m.
Special events are planned for Nov. 13 and 20. November 13 will be include a "Green Thursday" post-show presentation on how to think green organized by Everything Natural of Clarks Summit; and November 20, Electric Theatre Company will host "The Body Electric" at 6 p.m., a singles' night at the theatre, with pre-show mixer, post-show party and dancing in The Ballroom.
For tickets and more information, call 570-558-1515 or visit www.electrictheatre.org.
Tags: Electric City, Pennsylvania, Scranton, electric theatre company, mark medoff, men of mah jongg, pa
Trackbacks
Leave a Trackback