Nightmare Video opens Saturday
Downtown
— By
nmilner
on October 2, 2008 at 10:36 am
Along with GreenBeing, there's another new business opening in Downtown Scranton this weekend. On Saturday, Nightmare Video will open on 134 Franklin Ave., next to Whistles.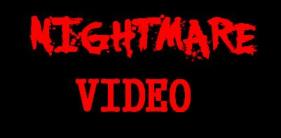 Nightmare Video is a horror movie rental store started by Ian Dunlay and Michael Brandon Ancherani. Their selection will range from the 1890s to the newest and goriest horror flicks. Nightmare Video will feature everything a horror fan could want – t-shirts, posters, magazines, soundtracks and horror-related video games.
Stop by on Saturday and check out the grand opening of Nightmare Video. And if you still haven't had your fill of Halloween-time horror, get ready for the premiere of locally made "Fair Evil" at the Endless Mountains Theatre on October 25 at 6:30 p.m.
Tags: Electric City, Pennsylvania, Scranton, fair evil, greenbeing, nightmare video, pa
Trackbacks
Leave a Trackback