'Painted Faces' to open at the MAC
The Arts
— By
nmilner
on October 28, 2008 at 10:34 am
The Melberger Arts Center is preparing to open a new exhibit at the gallery on 123 Wyoming Ave., Scranton.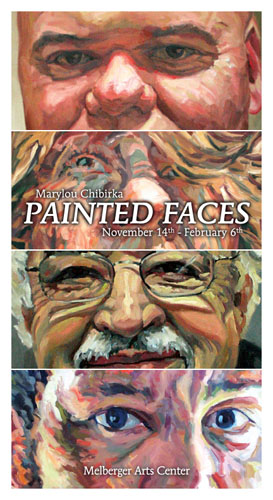 "Painted Faces," featuring works by local artist Marylou Chibirka, will open on November 14 and run through February 6.
According to the artist's statement: "I find when someone gets up close and 'in your face' something unique happens…my reaction and assessment of the subject
changes. As I study the face and proceed to paint my subject the painting takes on a life of it's own…I feel my subject is watching me instead of me studying them."
Opening night on Friday, November 14, will include an artist talk at 6 p.m. followed by a reception from 6:30-8:30 p.m. with music by the Tony Costa Trio. Regular hours at the gallery are Monday through Friday, 10 a.m. to 6 p.m.
Tags: Electric City, Melberger Arts Center, Pennsylvania, Scranton, marylou chibirka, pa, painted faces
Trackbacks
Leave a Trackback