Quaker Steak and Lube opening Oct. 15
Business
— By
nmilner
on October 8, 2008 at 9:41 am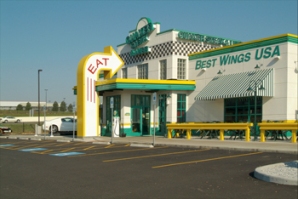 Wing-lovers have reason to celebrate. National chain Quaker Steak and Lube will be opening its newest franchise on October 15 in the Greater Scranton area on 4005 Commerce Blvd., Dickson City.
Quaker Steak and Lube features 18 signature chicken wing sauces along with burgers, steaks and ribs. Quaker Steak will offer a casual, family friendly environment including two bars – one of them an outdoor patio bar – and theme nights like All-You-Can-Eat-Wings Tuesdays and Bike Night Wednesdays.
Stop by next Wednesday and let us know how the wings stack up to NEPA's best.
Tags: Electric City, Pennsylvania, Scranton, pa, quaker steak, wings
Trackbacks
Leave a Trackback