Electric Theatre Co.'s 'A Christmas Carol'
Art
— By
nmilner
on November 17, 2008 at 1:05 pm
Get into the holiday spirit with Electric Theatre Company's word-for-word rendition of Charles Dickens' "A Christmas Carol." This is Dickens' complete story with every word in place.
Three performances are scheduled on December 12 and 13 at 8 p.m. and December 14 at 3 p.m.
Ten actors portray more than 60 characters in this orchestration for voices by Electric Theatre's producing artistic director, David Zarko.
The production features Ed Chemaly, Jodi Grochal, Eleanore Gwyn-Jones, James Langan, Conor McGuigan, Michaela Moore, Mary Ethel Schmidt, John Schugard, Heather Stuart and others.
For more information, visit the Electric Theatre Company site at www.electrictheatre.org.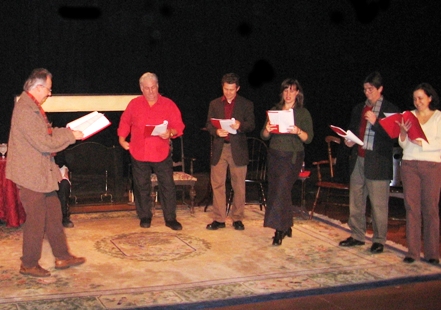 Tags: Electric City, Pennsylvania, Scranton, david zarko, electric theatre company, pa
Trackbacks
Leave a Trackback