Beatles photographer at the Everhart
Events
— By
nmilner
on November 3, 2008 at 10:43 am
The Everhart Museum will host a special event this Saturday, Nov. 8, from 6-8 p.m., with world famous photojournalist Harry Benson visiting our region to open a new exhibit based on his photographs of the Beatles.
The event, called "The Everhart Rocks," will feature the unveiling of the Everhart's newly installed Rocks & Minerals Gallery along with the opening of "The Beatles: Photographs by Harry Benson."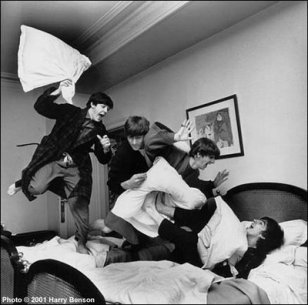 Benson arrived in America with the Beatles in 1964 and followed the Fab Four during their rise to superstardom in the States. He has photographed every U.S. president from Eisenhower to George W. Bush and covered historic events like the fall of the Berlin Wall and the aftermath of Katrina in New Orleans. Benson will be signing copies of his books which will be available for purchase that evening.
For photographers and fans of the Beatles, this is an event you can't miss. Cost is $30 per person and reservations must be prepaid with a credit card or check. You must be 21 or older to attend. Participation is limited to 200 guests. For more information or to make reservations, contact the Everhart Museum at 570-346-7186 or email: general.information@everhart-museum.org
Tags: Electric City, Pennsylvania, Scranton, beatles, everhart museum, harry benson, pa
Trackbacks
Leave a Trackback