Election Day specials at Dionysus Downtown
Downtown
— By
nmilner
on November 4, 2008 at 9:49 am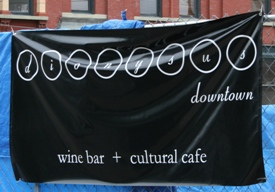 After you cast your ballot today, you can celebrate having taken part in the democratic process in the state likely to decide the election or just celebrate the end of this long campaign season by heading down to Dionysus Downtown for Election Day specials.
Dionysus Downtown, 244 Penn Ave., Scranton, will offer OBAMA-politans and McCAIN-tinis for Election Day, as well as specials on Miller Lite and Budweiser bottles, starting at 5 p.m.
Wait until after you vote, then stop by Dionysus Downtown and watch the results roll in.
Tags: Dionysus Downtown, Electric City, Pennsylvania, Scranton, biden, election day, mccain, obama, pa, palin
Trackbacks
Leave a Trackback