First Friday November in Scranton
The Arts
— By
nmilner
on November 5, 2008 at 9:31 am
The November First Friday map is out with 18 local businesses and galleries hosting events this Friday.
Vegan café Eden, 344 Adams Ave., opens Friday and will host a grand opening event with photography by Rachel Dare. While last month's newcomer, GreenBeing, 334 Adams Ave., hosts the Master Dress Recycler.
St. Luke's Episcopal Church, 232 Wyoming Ave., again has a full slate with live piano music and a CD signing by Jack Woodbridge; handcrafted jewelry by Maureen Duffy; natural-art jewelry by Keystone Community Resources; photography by Ed Davis and Sandy Korshnak; and Lackawanna Humane Society volunteers on hand with animals available for adoption.
November offers plenty to see and do – everything from chalk drawings at Dionysus Downtown to handbags and jewelry at Duffy Accessories – so try to hit as many venues as you can this Friday.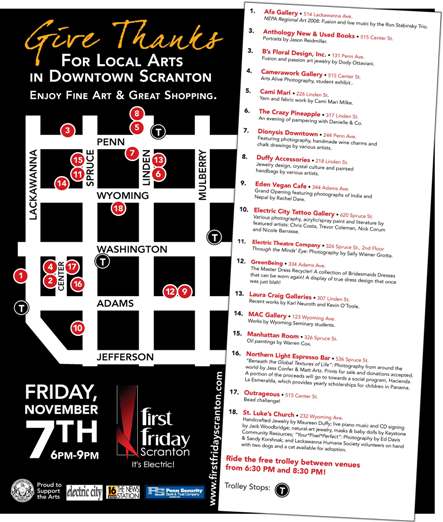 Tags: Electric City, First Friday, Pennsylvania, Scranton, eden cafe, greenbeing, pa
Trackbacks
Leave a Trackback