Marywood hosts conference on Human Rights, Religious Freedom
Featured
— By
nmilner
on November 21, 2008 at 11:41 am
Beginning Sunday, our area will play host to delegates from 40 countries across the globe, including the Vatican, for the fifth session of the Interparliamentary Conference on Human Rights and Religious Freedom at the Marywood University. Past sessions have been held in Rome, Brussels, and Washington, D.C.
The conference will be held Nov. 23-25 and will feature international parliamentarians and delegates discussing legislative opportunities to address human rights, sovereignty, security, environmental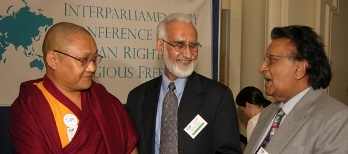 protection, poverty, and extremism.
Michael Kozak, Senior Director for Democracy, Human Rights and International Organizations, National Security Council, will deliver the keynote address on Sunday. The session topics include "Our Common Nature: Religion and Legislature Protecting the Environment"; "Counterterrorism, Dialogue, and Extremism"; "Keeping the Public Healthy: Obstacles and Necessities in Prioritizing Public Health"; and "Identity, Sovereignty, and Human Rights in a Globalized World."
The public may attend the conference by registering in advance ($120 for all three days, or $50 a day per person). Limited seating is available. Register Online at www.religionandpolicy.org.
Tags: Electric City, Pennsylvania, Scranton, interparlimentary conference, marywood university, pa
Trackbacks
Leave a Trackback