First Night Scranton 2009
Downtown
— By
nmilner
on December 9, 2008 at 12:04 pm
Scranton's biggest party of the year is almost here – First Night Scranton 2009 on New Year's Eve, Wednesday, Dec. 31, from 6 p.m. to midnight.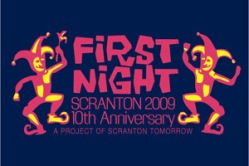 This is the 10th anniversary year for Scranton's First Night celebration and they've lined up more than 100 artists and performers at more than 20 venues around the downtown area.
There will be music to suit any taste with a lineup that includes: original musicians like Brenda Fernandes, Charles Havira and the Sw!ms; jazz favorites like Marko Marcinko Latin Jazz Group, Stew Cutler Trio and SIORA; bands that specialize in the classics like Chris Orbach Band, Fabulous Fortunes and Groove Train; as well as main stage performers Paul LaBelle & the Exact Change and a Battle of the Bands showcase.
Kids can look forward to balloon sculptures by Zoe the Clown; Buffalo Bill's New Year's Hootenanny, an interactive live theatre show; live competitions in Dance Dance Revolution and Guitar Hero; Happy Faces face painting; and amusement rides.
The full list of activities features comedy, juggling, magic, dancing, interactive trivia game The Brain Show and, of course, the countdown to the New Year with fireworks and an 'Auld Lang Syne' sing-a-long.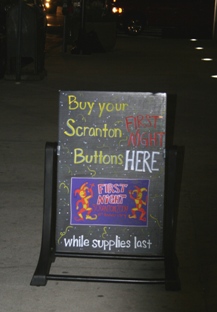 Pick up your First Night Scranton 2009 admission buttons at locations around Northeastern Pennsylvania, as well as the Mall at Steamtown, and at event headquarters, the William J. Nealon Federal Building, 235 N. Washington Avenue. The button gives you unlimited admission to all venues and special events.
Buttons are $8 if purchased before Dec. 25, and $10 if purchased after Dec. 25 or on the night of the event. Senior citizens attending the bingo event and children under 5 are free.
For the most up-to-date list of activities, along with information on parking, restaurants and more, visit the First Night Scranton 2009 site.
Tags: Electric City, Pennsylvania, Scranton, first night, new years, new years eve, pa
Trackbacks
Leave a Trackback