Ruthless Zine, Issue 2
Downtown
— By
nmilner
on December 18, 2008 at 10:50 am
A few weeks ago we brought you the first issue of a new Scranton zine, Ruthless, run by Marywood University student Jessica Meoni. Now the second issue has arrived along with the announcement of some interesting upcoming events for the organization.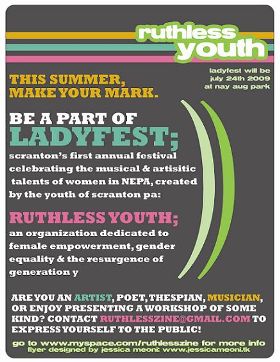 Since publishing the first issue, Meoni has solidified the details on Ladyfest 2009, Scranton's first annual festival celebrating the musical and artistic talents of women in Northeastern Pennsylvania. The event will be held July 24 at Nay Aug Park. Men are welcome to attend too.
And on January 22 at Anthology New and Used Books, 515 Center St., Scranton, Ruthless will organize "What Pronouns Do You Prefer," a discussion on gender and the transgender experience.
Look for Ruthless downtown at Anthology Books, Outrageous, GreenBeing, Embassy Vinyl, Marc's Tattooing, The Banshee, Northern Light Espresso Bar, Duffy's Accessories, AFA Gallery, Nightmare Video, Phoenix Cuts, Electric City Tattoo, The Bog and more; or read the second issue as a PDF.
Tags: Pennsylvania, Scranton, anthology books, jessica meoni, ladyfest, pa, ruthless
Trackbacks
Leave a Trackback