Tamaqua's 'Spirits of Christmas' Pub Crawl
Events
— By
nmilner
on December 5, 2008 at 11:48 am
This weekend, Tamaqua is rolling out its Spirit of Christmas Festival which includes the intriguing First Annual Spirits of Christmas Pub Crawl on Saturday night.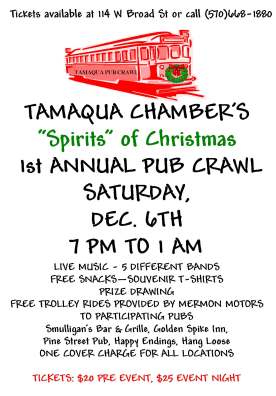 The pub crawl runs from 7 p.m. to 1 a.m. and covers five pubs around Tamaqua – Smulligan's Bar & Grille, Golden Spike Inn, Pine Street Pub, Happy Endings and Hang Loose – featuring five different bands. The ticket price provides access to all five venues – no cover. Trolley rides will be available throughout the night and participants get a souvenir t-shirt.
Tamaqua's Spirit of Christmas Festival will include, tonight, a Santa Parade and Depot Square Park Illumination (6:30 p.m.), pictures of Santa and Mrs. Claus (7 p.m.) and a Tree Festival at the Tamaqua Art Gallery, 114 W. Broad St. (7-9 p.m.).
Tomorrow, you can have Breakfast With Santa at 9 a.m. at 105 W. Broad St.; take in the Holiday House Tours from 10 a.m. to 2 p.m.; and watch the judging of the Cookie Contest, 114 W. Broad St., from 2-3 p.m., all before the Pub Crawl.
Sunday's activities include Stories with Mrs. Santa Claus, 114 W. Broad St., 1 p.m.; Tree Festival continues, 1-4 p.m.; and Christmas Tree Lighting at Depot Square Park, 6 p.m.
Tags: Electric City, Pennsylvania, Scranton, pa, spirits of christmas, tamaqua
Trackbacks
Leave a Trackback