Winter in the City Scranton
Downtown
— By
nmilner
on December 29, 2008 at 10:39 am
You'll probably need some time to recover after Scranton's First Night celebration but you should be ready to party again just in time for the Winter in the City cocktail party on Friday, Jan. 9, from 5:30-8 p.m. at the Electric City Trolley Museum.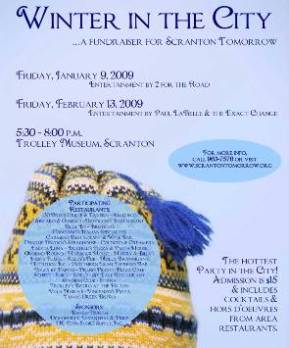 Winter in the City is a fundraiser for Scranton Tomorrow and will feature entertainment by 2 for the Road as well as cocktails and hors d'oeuvres from Northeastern Pennsylvania restaurants. Admission is $15.
Participating restaurants include Brixx, Arcaro & Genell's, Billy B's, Carmen's Restaurant & Wine Bar, Coldstone Creamery, Faccia Luna, Ground Round, Molly Brannigan's, Northern Light Espresso Bar, Schiff's, Stadium Club, Villa Maria II, Yanni's Greek Bistro and many more.
Another Winter in the City cocktail party will be held on Friday, Feb. 13, with entertainment by Paul LaBelle and the Exact Change.
For more info, call 963-7576 or visit www.scrantontomorrow.org.
Tags: Electric City, Pennsylvania, Scranton, Scranton Tomorrow, electric city trolley museum, first night, pa, winter in the city
Trackbacks
Leave a Trackback