Electric Theatre Co. puts a new spin on 'Romeo and Juliet'
Downtown
— By
nmilner
on January 19, 2009 at 12:16 pm
Electric Theatre Company's Zuppa del Giorno will put their unique spin on a Shakespeare classic with "The Very Nearly Perfect Comedy of Romeo and Juliet," playing Feb. 4-22.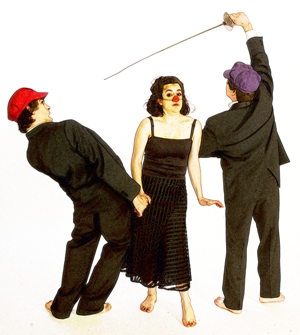 Zuppa del Giorno is Electric Theatre Company's contemporary American commedia dell'arte troupe. "The Very Nearly Perfect Comedy of Romeo and Juliet" is Zuppa's eighth production and will feature international actors and directors working with Scranton artists Conor McGuigan, Heather Stuart, and David Zarko, with NEPA actors Pat Brogan, Tila Paris Angley, and Teresa Mastrobuono, and with New York actor David Berent.
"Romeo and Juliet" has rarely been described as a comedy but Zuppa's take on the story will include transforming the starcrossed lovers into a pair of red-nosed clowns. "It all fits perfectly," said Electric Theatre artistic director David Zarko, "the play is so based in commedia, it wants to be a comedy right up until the last fatal decision by Romeo. The play is so exciting when it keeps trying to work out right for the lovers. It freshens the story up, makes it new again, gives us a window onto how it must have been to have seen the play for the first time, knowing nothing of the outcome."
For those who just can't get enough of the Bard, Electric Theatre Company partners the Marywood University Theatre Program and North Pocono High School will present "A Midsummer Night's Dream" on Feb. 20-21 and April 1-3, respectively. The Electric Theatre provides professional training workshops to Marywood and North Pocono students involved in both productions.
For more information on showtimes and prices, visit the Electric Theatre Company site.
Tags: Conor McGuigan, Electric City, Pennsylvania, Scranton, david zarko, electric theatre, marywood university, north pocono, pa
Trackbacks
Leave a Trackback