Fairy Tale exhibits coming to the Everhart
Featured
— By
nmilner
on January 27, 2009 at 12:02 pm
Beginning in February, the Everhart Museum will host three exhibitions featuring art from and inspired by Fairy Tales.
Opening Feb. 6, "Fairy Tale Art: Illustrations from Children's Books" features art that honors the symbolic and metaphoric language of stories that span thousands of years and cultures from across the globe. The exhibit includes traditional versions of:  "Jack and the Beanstalk," "Cinderella," "Sleeping Beauty," "Snow White" and "Little Red Riding Hood." Award-winning contemporary artists whose art is featured include: Kinuko Y. Craft, Trina Schart Hyman, Barry Moser, DEMI, Susan Paradis and Jim LaMarche.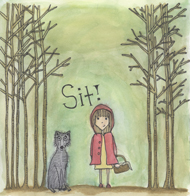 The Everhart Museum's Gallery One will showcase some local students' take on classic fairy tales in "Happily Ever After?: Student Art at the Everhart," opening Feb. 6. Area students rewrote and illustrated unexpected endings to their favorite fairy tales. The schools involved include: Abington Heights High School, Blue Ridge Elementary, John Marshall Elementary, Moscow Elementary Center, Mt. View Elementary, Scranton High School, and South Scranton Intermediate School.
And while you're enjoying "Fairy Tale Art" and "Happily Ever After?", you can continue to explore the world of fairy tales at "Isaiah's Corner: Enchanted Everhart," opening Feb. 1. The hands-on exhibit will allow you to become a king or queen, solve puzzles, discover magic objects, write your own fairy tale with a moral to the story and more.
The exhibits continue through May 25, from noon-4 p.m. on Thursday, Friday and Monday; 10 a.m.-5 p.m. on Saturday; and noon-5 p.m. on Sunday.
Tags: Electric City, Pennsylvania, Scranton, everhart, fairy tale, pa
Trackbacks
Leave a Trackback