Grand Opening Weekend for Vintage Theater
Downtown
— By
nmilner
on January 16, 2009 at 12:07 pm
If you're looking for something to do this weekend, don't forget about the grand opening of the new Scranton's Vintage Theater this weekend.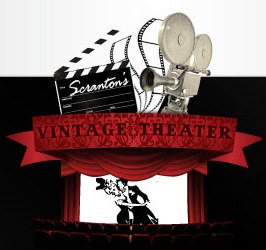 The theater will screen classic movies and host community and cultural events. Grand opening weekend will feature showings of Hitchcock's "The Thirty Nine Steps" on Friday and Saturday at 7 p.m. and on Saturday and Sunday at 3 p.m.
Next weekend (Jan. 23-25), the Vintage Theater will screen "Random Harvest," followed by Roy Rogers western "My Pal Trigger" on Jan. 30-Feb. 1 and "Little Shop of Horrors" on Feb. 7-8.
Other upcoming events at the Vintage Theater include The Photography of Matt Artz and Jess Confer on Feb. 6 beginning at 5 p.m.; Steamtown Improv, Here We Are In Spain and Rare Bird Show on Feb. 13; and Donny Kirschner and Satellite on Feb. 14.
To Reserve/Pre-order any ticket, please send your name, number, and amount of tickets needed  to Boxoffice@ScrantonsVintageTheater.com.
Tags: Add new tag, Electric City, Pennsylvania, Scranton, pa, scranton's vintage theater
Trackbacks
Leave a Trackback