2009 Saint Patrick's Day Parade, Scranton
Featured
— By
nmilner
on February 24, 2009 at 12:25 pm
The St. Patrick's Day Parade through downtown Scranton is just weeks away. Here's all the information you'll need to enjoy a full day of celebrating Irish culture.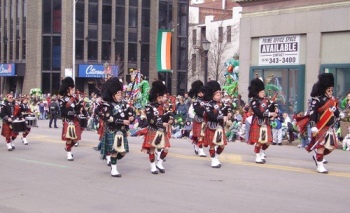 The parade begins at 11:45 a.m. on Saturday, March 14, on Wyoming Avenue in front of St. Peter's Cathedral. The parade route continues down Wyoming Avenue to Lackawanna Avenue, then a left on Lackawanna and where the parade continues to Jefferson Avenue. The parade will head left onto Spruce Street, then turn right onto North Washington Avenue and pass in front of the Lackawanna County Courthouse where judges will review the best floats in this year's parade.
Prior to the parade, St. Patrick's Day activities in Scranton will start at 10 a.m. with a Mass at St. Peter's Cathedral and the Brian P. Kelly Memorial 5K Race at 11:30 a.m.
Organized by the St. Patrick's Parade Association of Lackawanna County, the parade has been a Scranton-area tradition since 1962 and has become the fourth largest St. Patrick's Day Parade in the United States. The parade attracts nearly 10,000 participants annually including bands, floats and balloons.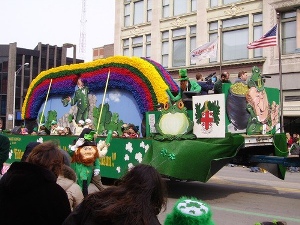 This year's festivities will include the Penn York Highlanders, Ladies From Hell Pipe band, Kendria Perry Miss Pennsylvania 2008 and the 28th Infantry Division Band. William Egan Sr. is honorary grand marshal; Mayor Chris Doherty, parade marshal; Leo P. Higgins, honorary parade marshal, and Monsignor James McGarry, honorary parade commander.
And, of course, the St. Patrick's Day celebrations don't end with the parade. Bars in the Scranton area will open at 9 a.m. The Stone Elephant, 415 Lackawanna Ave., Olyphant, organized its second annual Erin Express for parade day with a bus ride to/from Scranton, Kegs and Eggs Breakfast, drink specials and more. Register by emailing stoneelephanterinexpress@gmail.com.
The Bog, 341 Adams Ave., Scranton, will host a day of local music featuring the Sw!ms, Charles Havira Band, Orner Bros, Minor White, Thom Louis Graham, And the Moneynotes and others.
Colosseum Nightclub and Lounge, 120 Adams Ave., will be hosting Colosseum St. Patty's Day.
Tags: Doherty, Pennsylvania, Scranton, pa, parade, st. patrick
Trackbacks
Leave a Trackback