Community Film Project at the Vintage Theater
Events
— By
nmilner
on February 27, 2009 at 11:32 am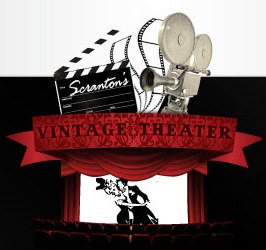 On Saturday, Feb. 28, two great local organizations will team up when Scranton's Vintage Theater highlights the short films of the Community Film Project.
The 90-minute presentation of CFP short films begins at 7 p.m. at the theater at 222 Wyoming Ave., Scranton; admission is $5. All films were produced locally, using Northeastern Pennsylvania talent both in front of and behind the camera.
The short films being shown will include:
Get Pumped!
by Jeff Fowler
A documentary that details the operations of a consulting firm named Pumped Associates. The mission of Pumped Associates is to improve the well being of clients by utilizing energetic chants to get people fired up.
Memories in Tact
by Kevin Ripka
A guy looks back on his doomed relationship to discover why his girlfriend dumped him.
Higher
by Maureen McGuigan and Mark Migliore
A woman realizes the sacred is in the details as she moves through an ordinary day.
President Swap
by Kevin Ripka
Animated parody of the "Wife Swap" TV Show where President Bush switches places with the President of the "Saved by the Bell" fan club.
Alright
by Jeff Fowler
A guy and a gal discover what its like to be more than friends.
Barrage
by Craig Cirelli
A group of soldiers encounter an unknown enemy force in the midst of WWII.
Grim Interview
by Tim Gaer
What if death chose you?
Ghost of Kingston Hall
by Tony DelRegno
Teenagers get more than they bargained for when they meet the ghost of Kingston Hall.
Black Market
by Robert Sweeney
An animated, comedic adventure set in the shady underbelly of the Chinese Black Market.
Tags: Electric City, Pennsylvania, Scranton, community film project, pa, vintage theater
Trackbacks
Leave a Trackback