Help the Hanlon's Grove Restoration project
Featured
— By
nmilner
on February 11, 2009 at 11:59 am
The 2009 class of Leadership Lackawanna has undertaken a project to restore and enhance Hanlon's Grove at Nay Aug Park but they'll need some help from the Northeastern Pennsylvania community to make it possible.
Named for Scranton's twenty-first mayor, James T. Hanlon, Hanlon's Grove was first opened in the early 1950's. After years of vacancy, the grove was revived as an outdoor theatre in 2004. As a result of an ice storm in 2007 the amphitheatre was removed and the Grove has been vacant since.
The restoration project will include site clean up, landscaping, construction of eight picnic areas (each with their own fire pit and picnic table) and renovation of the historic pillars and staircase into a water feature. The Grove will also be fully handicap accessible, with a larger picnic area closest to the entrance that will have an ADA-regulation picnic table for increased accessibility.
The group estimates the cost of the project to be roughly $125,000, which Leadership Lackawanna will raise entirely through donations (both in-kind and monetary,) sponsorships and grants. P&G became the first Platinum level project sponsor, donating $7,500 toward the construction efforts. Donations have also come from Keystone Community Resources, FastSigns, King Outdoor, Lamar Advertising, Penn East Federal Credit Union, Ridgeways and Joseph Rominski Architecture.
The Leadership Lackawanna Class of 2009 is now looking for masons, excavators and landscapers to donate materials or labor in-kind. Any business or individual interested in getting involved should email hanlonsgrove@gmail.com or visit www.hanlonsgrove.com for more information.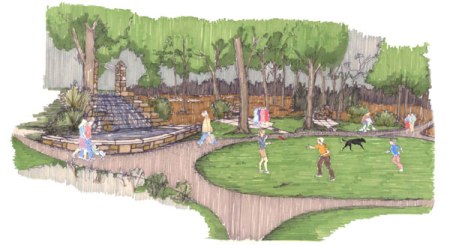 Tags: Electric City, Leadership Lackawanna, Pennsylvania, Scranton, hanlons grove, pa
Trackbacks
Leave a Trackback