New Sw!ms album on its way, March 24
Art
— By
nmilner
on February 23, 2009 at 12:26 pm
Scranton's own The Sw!ms recently announced that their new full-length album, "Itemlord," will be released on March 24.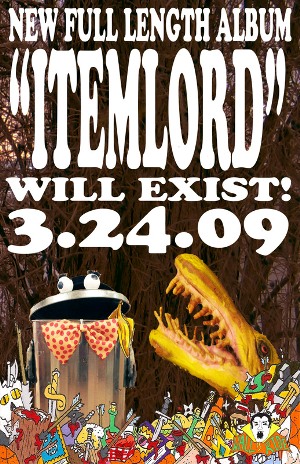 Along with that announcement came news of the Sw!ms Official Fan Guild forming this spring offering: "Cool prizes! Rockin Newsletter! Special Options!"
"Itemlord" is just about to hit shelves and the band is already tracking another full-length with temp drummer Rik Finnerty and readying a split with The Mishaps for release. The band also has several shows lined up over the next two months including: Feb. 28 at Sidebar, Baltimore, Md.; March 14 at The Bog, Scranton; March 20 at Northern Light Espresso Bar, Scranton, for an acoustic show; March 21 at The Bog, Scranton, with Prabir And The Substitutes and The Mishaps; March 27 at Wallride Manor, Westminster, Md., with The Mishaps; March 28 at Johannson's Down Under, Westminster, Md.; and April 22 at The Woodlands, Wilkes-Barre, for Concert For A Cause VII.
Tags: Electric City, Pennsylvania, Scranton, itemlord, pa, the swims
Trackbacks
Leave a Trackback