POWER! Outage at Dionysus Downtown
Downtown
— By
nmilner
on February 20, 2009 at 10:09 am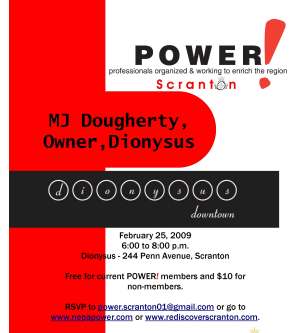 Next Wednesday, Feb. 25, 2009, downtown Scranton wine bar Dionysus Downtown, 244 Penn Ave., will host a POWER! Outage from 6-8 p.m.
It's a chance to mingle and network with other local professionals working to enhance the economic and cultural assets of Northeastern Pennsylvania. Guest speaker will be Dionysus owner M.J. Dougherty. The event is free for current POWER! members and $10 for non-members.
RSVP to power.scranton01@gmail.com.
Tags: Dionysus Downtown, Electric City, POWER!, Pennsylvania, Scranton, pa, rediscover scranton
Trackbacks
Leave a Trackback