POWER! Outage at Luna, Wilkes-Barre
Events
— By
nmilner
on February 2, 2009 at 11:55 am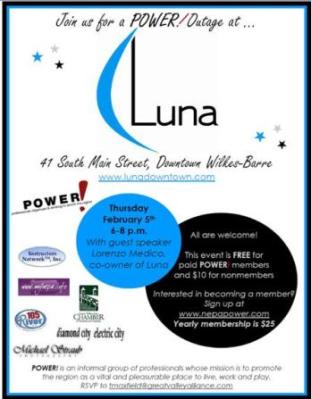 Join other local professionals to mingle and network when POWER! shoots the moon at downtown Wilkes-Barre's newest hotspot, Luna, at 41 South Main Street.
The POWER! Outage is scheduled for Thursday, February 5, at 6 p.m. with guest speaker Lorenzo Medico, co-owner of Luna. The event is free to POWER! members and $10 for non-members; membership applications will be available at the door. Drink specials and hors d'oeuvres will be available.
For more information and to RSVP, write to tmaxfield@greatvalleyalliance.com.
Tags: Electric City, POWER!, Pennsylvania, Scranton, Wilkes-Barre, luna, pa
Trackbacks
Leave a Trackback