Ruthless Issue #3 released
Art
— By
nmilner
on February 13, 2009 at 11:27 am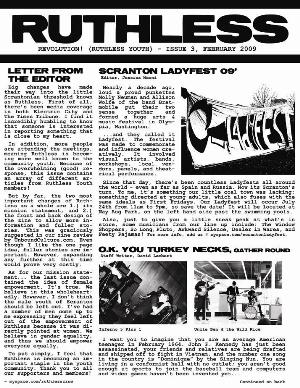 The third issue of the Scranton-based independent zine Ruthless is now available online and around the downtown area – now with a front and back.
This newly expanded issue includes information on the upcoming Ladyfest arts and music festival scheduled for July 24 from 11 a.m. to 9 p.m. at Nay Aug Park. There are also some great music articles and recommendations.
Click the image for a pdf version of Ruthless #3.
Tags: Electric City, Pennsylvania, Scranton, ladyfest, pa, ruthless, ruthless youth
Trackbacks
Leave a Trackback